Lucy Obus
Posted in Uncategorized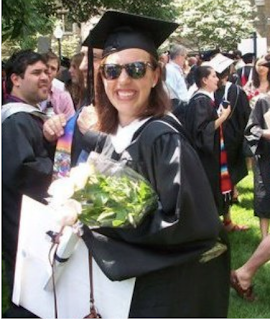 Major, School and Year?
Communication, Culture, & Technology MA (2018) and American Studies/Theater and Performance Studies, BA (2011)…I'm a proud soon-to-be double Hoya!
How has your story lead you to Georgetown Women's Alliance?
I can't lie, I found GWA through the power of the listserve! I saw the fellowship opportunity in an email and was so thankful I did, as it came at a fortuitous time in my Georgetown timeline: I was reflecting on my first year back on campus and thirsty to engage with the powerful but sometimes nebulous network of female professionals across campuses.
What does the GWA mean to you?
I don't think I understood the utility of professional training and networking until I got to "the real world." I had a female boss who had no interest in fostering in supporting my own growth and suppressed my potential; I realized how ill equipped I was to deal with it. I think her actions were a defensive byproduct of an old landscape, I'll never know, but I quickly learned the importance of individual and collaborative professional development. Feminism and women's leadership is not responsive, it's proactive. GWA is a place for individuals across the Georgetown network to equip themselves with tools to make their own goals a reality, work with others to support those realities, and defend against anyone in their way.
What will you be focusing on during your Fellowship?
I am working on both the strategic mission/planning and communications committees this year. As both a student and alumna, I'm interested in honing in GWA's mission to most effectively engage and support the many female-driven organizations across the GU landscape (student-run orgs, institutes, alumni clubs, graduate initiatives, etc.) I'll be spending the year crafting strategic conversations to best understand how GWA can serve its community effectively and be an accelerator and connector. I'll also be revitalizing the website and spotlighting GWA affiliates and individuals across campuses.
Who is your favorite female mentor (on campus or off?)
Fierce females have highlighted my Georgetown experience, so I have to highlight two. As an undergraduate it was Natsu Onoda-Power, (Professor and Director of the Davis Performing Arts Center) who is a unequivocal artistic genius and an inventive and inspiring teacher. She was kind enough to be my AMST thesis advisor and motivate me through that overwhelming process. At CCT, Jeanine Turner preaches the power of presence and strategic persuasion (literally, she teaches that class) and her professional guidance is compassionate, enthusiastic, and empowering. I hope every student finds at least one mentor; if one doesn't find you fortuitously, seek them out. It's one of the great advantages of the university community.
What should the Georgetown community know about the Georgetown Women's Alliance?
There are a multitude of groups across campus that work to support women's leadership both directly and indirectly, which is amazing. GWA is here to foster this thriving ecosystem in a variety of ways- fiscal support, collaboration, programming, but there's always more work to do be done. Gender justice is not a female issue and it's not something to be taken for granted, and GWA hopes to serve as a hub for emboldened female engagement. If that excites you, get involved, tell us how GWA can help you. We're in this together.