Kaela Jackson
Posted in Uncategorized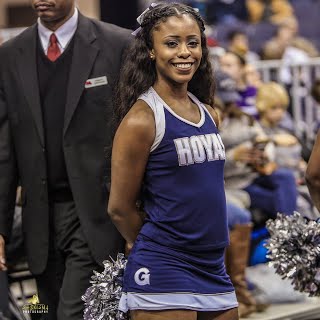 Major, School, and Year?
English, Georgetown College, 2018
How has your story lead you to Georgetown Women's Alliance?
I first heard about GWA from a meet and greet hosted on campus, and immediately fell in love with the atmosphere and enthusiasm demonstrated by all of its members. Since becoming a Fellow, I have gained so much more than I originally imagined. I have been able to learn, grow, and thrive, on an individual level – both personally and professionally – but have also grown to recognize the importance of promoting an environment where other women can do so as well.
What will you be focusing on during your Fellowship?
As a Fellow for the Communications Committee, my focus will be on growing our social media presence through platforms such as Facebook and Twitter, and developing new strategies to keep followers active and engaged.
Who is your favorite female mentor (on campus or off)?
Linda Blair – Administrative Officer for the Department of African American Studies
What should the Georgetown community know about the Georgetown Women's Alliance?
GWA hosts a variety of events over the course of the year that seek to connect members and affiliates. The events are a great way to network and get to know professional, graduate, and even undergraduate women across campus!
How has the fellowship impacted your Georgetown experience?
Being a part of GWA has provided me with the opportunity to learn from and engage with a dynamic and influential group of women from different sectors across campus. I value being able to benefit from their mentorship, and recognize now, more than ever, the importance of empowering and uplifting our female counterparts.