Politically Focused Events
Posted in Past Events
Being located in D.C. allows the GWA plenty of opportunities to team up with politicians on gender issues! Check out events on gender and politics.
---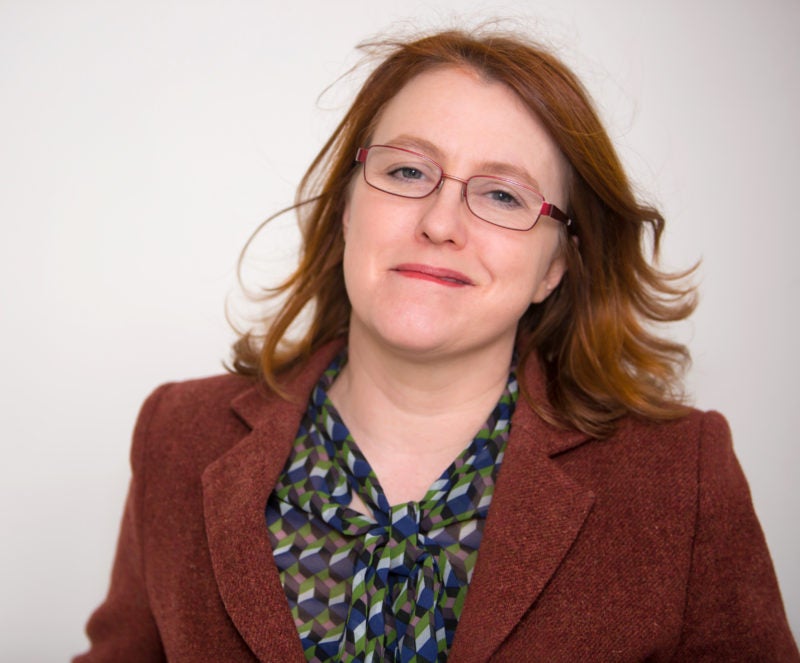 Empowering Women at the Local, National and International Level: A Conversation with Irish Senator Alice-Mary Higgins
Date: November 2, 2017
Time: 4:00-5:30 PM
Location: Murray Room, Lauinger LibraryJoin the Georgetown Women's Alliance on November 2, 2017 from 4:00 PM – 5:30 PM for a conversation with Irish Senator Alice-Mary Higgins.
In a conversation moderated by CC Borzilleri (COL '19) of the Georgetown Women's Alliance, Alice-Mary will discuss the issues she's addressed as a Senator, in particular her engagement on women's political and policy issues. This event is open to the entire Georgetown community, and will take place in the Murray Room, Lauinger Library.
ABOUT ALICE-MARY HIGGINS
Alice-Mary is an independent, full-time Senator on the National University of Ireland panel for Seanad Éireann. Born and raised in Galway, Alice-Mary Higgins has over two decades of experience in policy, strategy and advocacy across the areas of equality, international development and social inclusion.
---
How to Hoya: Politics
Date: October 17, 2017
Time: 7:00-8:00 PM
Location: HFSC Social RoomThe GWA is hosting a series of speakers on campus to bring students training and advice on launching a career in a given field. The first session will be "Politics." Speakers include:

Maia Estes (L' 03), Chief of Staff to Representative Anthony Brown (D-MD)
Lauryn Schothorst (C '05), Chief of Staff to Representative Ryan Costello (R-PA)
---
The Women Leading Politico: A New Type of Newsroom
Washington is changing. Journalism is evolving. The media landscape and the relationship between politics and the press is changing. And one thing is for certain — women are at the forefront of it all.
POLITICO, when founded a decade ago, was a departure from the traditional news organization. Continuing in that vein, it's notable that POLITICO's leadership today also reflects a "new guard," where the editorial and business operations are led by women — from the President, Editor in Chief, to its senior reporters. How does that impact the culture, both inside and outside the newsroom, editorial decisions, and media and politics more broadly? In this new political era we are entering, the conversation will also focus on the role and influence of women in politics and a new Washington.
Moderator: Mo Elleithee, Executive Director of the Institute of Politics and Public Service (GU Politics)
Panelists:
Poppy MacDonald, President, POLITICO U.S
Carrie Budoff Brown, Editor, POLITICO
Alexis Williams, VP, POLITICO Live
Cally Baute, VP, Audience Solutions
Anna Palmer, POLITICO Playbook Co-Author
February 22, 2017, Old North
---
Girls Education: Local to Global Perspectives
A Center for Social Justice Education Week event with Professor Fida Adely, Associate Professor, School of Foreign Service, Kelli Brevard (C'05, G'06), Asst. to the College Guidance Office, National Cathedral School, Caitlin Dempsey (C'10), Founding Board Member, Pine Ridge Girls' School, and Haydn Welch (G'17), Georgetown Institute for Women, Peace and Security.
November 7, 2016 Leavey Program Room
---
POLICIES ON CAMPUS VIOLENCE AND ACADEMIC FREEDOM
A symposium hosted by The Georgetown Law Center, Journal of Legal Education and Georgetown Gender Justice Initiative
Universities occupy a hallowed position in American culture. But recently reported incidents of sexual assaults on college campuses have spurred new and more rigorous policies in universities across the country. While the importance of protecting students from violence is unquestioned, these new policies call for consideration of issues such as the appropriate role of administrative decision-making, the role of governmental regulations, the need for academic freedom, and the rule of law generally. How can we best ensure an educational environment free from sexual violence but, at the same time, provide for academic freedom and the "marketplace of ideas"? And how might this be done given that constitutionally protected speech is sometimes offensive and disagreeable? How might we best maintain academic freedom without making it a defensive shield against enforcing equal opportunity requirements within academic life? These and related questions will inform the symposium.
October 14, 2016 Georgetown University Law Center
---
Gender Justice Initiative Fall Colloquium
The Gender Justice Initiative builds on the long-standing and path-breaking research already being done at Georgetown and sparks dialogue on sex and gender across departments and campuses. The Gender Justice Initiative invites faculty from across the University to come together, bring your students, and join us to begin the process of starting interdisciplinary conversations on issues of sex, gender, sexuality, feminism, intersectionality, and inequality.
Panel topics include:
What Difference Does Sex Difference Make?
Gender-Based Violence, Local & Global
Intersectional Gender Justice
September 23, 2016 Ethics Lab, 201B Healy Hall
---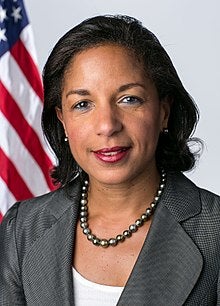 The Exit Interview: A Conversation with Ambassador Susan Rice
The Institute of Politics and Public Service in the McCourt School of Public Policy is hosting a series of exit interviews centered on the political and policy record of Barack Obama's presidency. Join us for the first event in the series, a conversation on national security and foreign policy with Ambassador Susan Rice, and many others this fall that will feature several key women from the Obama administration
September 14, 2016 Gaston Hall.
---
Enhancing Accountability for Women, Peace and Security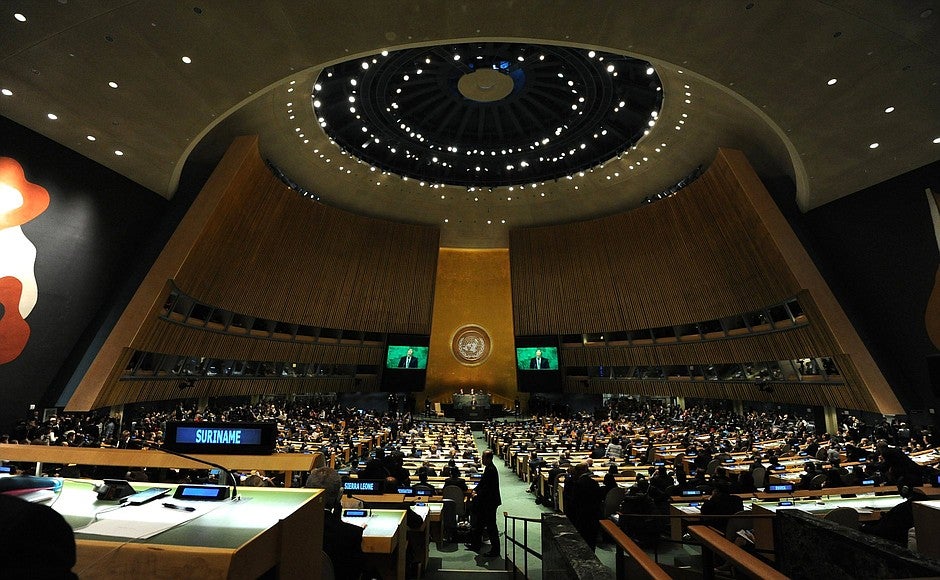 Offered by The Georgetown Institute for Women, Peace and Security, The Global Gender Program of GW's Elliott School of International Affairs, The Transitional Justice Institute at Ulster University, and UN Women
April 5, 2016. Event with Dr. Catherine O'Rourke, Senior Lecturer in Human Rights and International Law, Transitional Justice Institute, Ulster University; Dr. Aisling Swaine, Associate Professor of Practice of International Affairs, Elliott School of International Affairs, George Washington University; Ms. Alison Davidian, Transitional Justice Policy Specialist, Peace and Security Team, UN Women. One of the key conclusions of the Security Council commissioned 2015 Global Study on Resolution 1325 was the need for improved synergies between international human rights mechanisms and the women, peace and security agenda. With the adoption of General Recommendation No. 30 (2013) on the rights of women in conflict-prevention, conflict and post-conflict peacebuilding, the CEDAW Committee has provided practical guidance and a normative framework to that end. The seminar discusses how the CEDAW and WPS frameworks can be used to strengthen and reinforce each other and advance overall accountability for implementation of both sets of instruments.
---
Global Security: The European Perspective Ministerial Roundtable with Dr. Beate Merk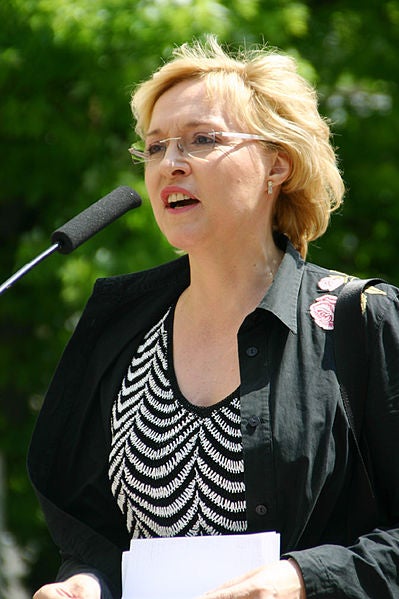 Offered by The Georgetown Institute for Women, Peace & Security, Georgetown Women in International Affairs, and the BMW Center for German and European Studies
April 4, 2016. Dr. Beate Merk is a German politician and member of the Christian Social Union in Bavaria (CSU). Dr. Merk assumed her current role as Bavarian Minister for European and International Affairs in October 2013. She has served in state and local governments, as a member of the CSU, in some capacity since 1984. She has worked as Justice Minister of Bavaria and in other high offices, but perhaps her most significant assignment remains her years as mayor of the city of Neu-Ulm. Working closely with her constituents, she became district councilor in the council of Neu-Ulm and district chairman of the Women's Union of Schwaben. She is involved in women's issues within Bavarian political life, as Member of the executive of the Women's Union of the CSU party. The GIWPS Ministerial Series is made possible by the generosity of the Embassy of Liechtenstein in Washington, D.C.
---
Sustainable Peace: The Link Between Security and Development and the Role of Women in Peace Negotiations
Offered by The Georgetown Institute for Women, Peace & Security and the Embassy of Sweden
March 31, 2016. A Conversation with H.E. Margot Wallström, Swedish Minister of Foreign Affairs, and with Ambassador Melanne Verveer, Director, Georgetown Institute for Woman, Peace & Security.
---
Inside the East Wing A conversation about the modern Office of the First Lady and the evolving role of the ultimate partner-in-chief
Event co-sponsored by the Women's Center, Georgetown Institute for Women, Peace, and Security (GIWPS), Georgetown Women's Alliance (GWA), Women in Public Policy Initiative (WPPI), Georgetown Women in International Affairs (GWIA), and the Georgetown University Women's Leadership Initiative (GUWLI).
March 30, 2016. GU Politics welcomed three Chiefs of Staff in the Office of the First Lady. Event featured Anita McBride, former Chief of Staff to First Lady Laura Bush and Executive in Residence, School of Public Affairs, American University; Tina Tchen, Chief of Staff to First Lady Michelle Obama; and Melanne Verveer, former Chief of Staff to First Lady Hillary Clinton and Executive Director, Georgetown Institute for Women, Peace and Security for a conversation on the Office of the First Lady. The conversation, moderated by author and ABC News contributor Claire Shipman, examined the role of a modern First Lady and her Chief of Staff, their relationship, and the challenges and opportunities of life in the East Wing. These women touched on the relationship between the East and West Wings; the balance of public persona and private life; and the impact of the modern media landscape like 24-hour cable news and social media. The panel also discussed the upcoming transition from political spouse to First Lady, in light of the 2016 Presidential election.
---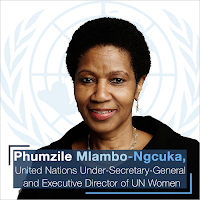 Georgetown's HeForShe Initiative Launch: A Conversation on UN Women's Global Priorities with Phumzile Mlambo-Ngcuka
February 23, 2016. To launch Georgetown's HeForShe Initiative, Georgetown University is proud to host Phumzile Mlambo-Ngcuka, United Nations Under-Secretary-General and Executive Director of UN Women, for a conversation on UN Women's global priorities.
---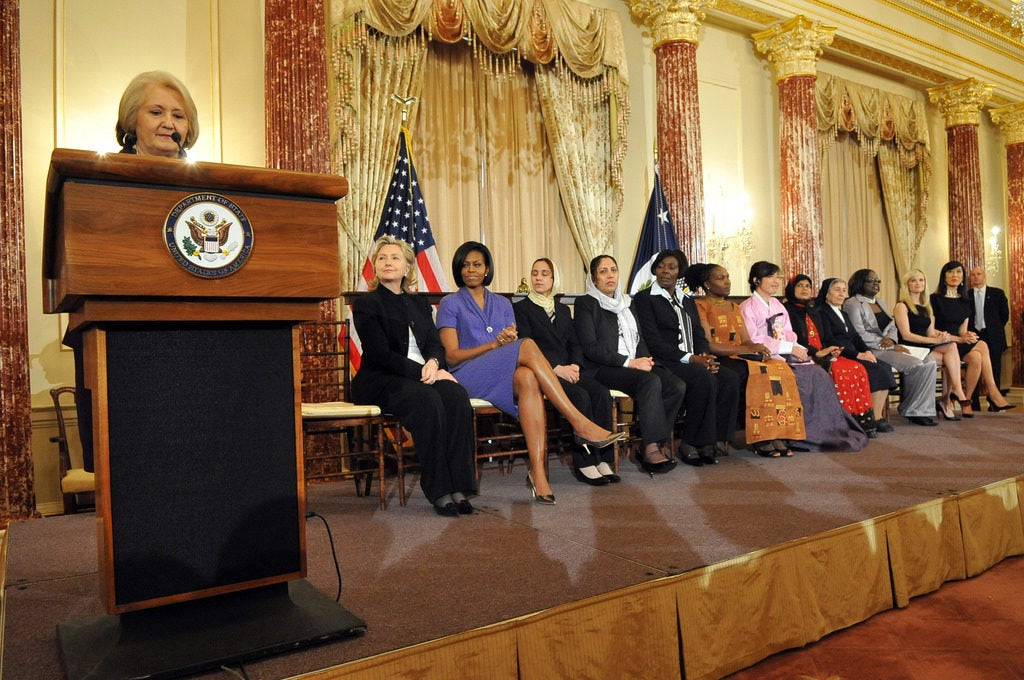 Ambassador Melanne Verveer on Fast Forward: How Women Can Achieve Power and Purpose
February 18, 2016. This event was presented by President John J. Degioia, the Georgetown Women's Alliance and Own it to celebrate Ambassador Melanne Verveer's new book, Fast Foward: How Women Can Achieve Power and Purpose. A discussion of the book took place at 5 p.m., a reception and book signing followed at 6 p.m. All guests received a copy of the book.
---
Conservative Feminism? Rewriting Gender Politics from the Right
December 1, 2015. Panel hosted by the McCourt School's Institute for Politics and Public Service. Panelists included Congressman Marsha Blackburn; Mindy Finn, Founder and President of Empowered Women and Misschief Media; Amanda Carpenter, CNN Contributing Editor; and moderator S.E. Cupp, Columnist for the New York Daily News.
---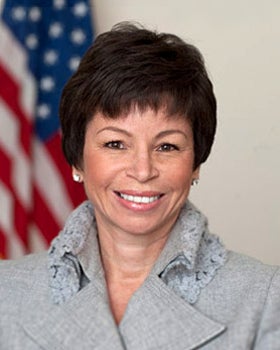 A Conversation with Valerie Jarrett
November 3, 2015. Conversation with Valerie Jarrett, Senior Adviser to the President and Chair of the White House Council on Women and Girls. Ms. Jarrett has worked throughout her tenure at the White House to mobilize elected officials, business and community leaders, and diverse groups of advocates behind efforts to champion equality and opportunity for all Americans.