Empowerment Events
Posted in Past Events
The GWA sponsors and hosts many events that focus on empowerment. See some of our past empowerment events and pictures from the event below!
---
Join us to hear about the very real connection between effective leadership and meditation, as well as the many other benefits of meditation.  Experience a silent meditation practice. Co-sponsored by the John Main Center for Meditation and Inter-religious Dialogue and GWA. Space is limited; please RSVP only if you plan to attend.
Date- March 7, 2019
Times/Locations:
11:30-12:15 PM- Workshop (John Main Center)
12:15-1:00 PM- Luncheon (McShain Large)
---
Women on the Map
Presented by: Supported by Georgetown Global Engagement, Gelardin New Media Center, and the School of Foreign Service Graduate Career Center.
Date: October 10, 2017
Time: 6:00 p.m. – 8:00 p.m.
Location: HFSC Social RoomHow can Technology Empower Women and Girls?
Please join Women on the Map & Georgetown Women's Alliance for a discussion on the role of technology in women's empowerment with inspiring women leaders.
The event will include:

Panel discussion with prominent women in tech
Photo exhibition of female trailblazers
Virtual reality experience
Interactive art installation putting #womenonthemap
The discussion will take place in the Social Room, Healey Family Student Center at Georgetown University. We hope to see you there!
If you have any questions, please contact us at: womenonthemap.info@gmail.com
For more information, please visit the Women on The Map Website:
www.womenonthemap.org
---
OWN IT Summit 2017

The OWN IT Summit bridges the gap between female leaders and the millennials who admire them. We're shaking up the women's leadership arena by producing events accessible to college-aged women of all demographics — not just those who can afford to pay their way.
This year, we're OWNING IT like never before. We have a limited number of tickets available, so get yours now! You can view more information on the own it summit website, and find the Summit on Facebook.
We're so excited to share some of our Mainstage speakers for #OWNIT2017! From the Democratic National Convention to the New York Times Bestsellers' List to the halls of Congress, our speakers have been making their mark across the country. We can't wait to hear the inspiring conversations that these women are sure to share in Gaston! Stay tuned for many more speaker announcements coming soon!
March 18, 2017, Gaston Hall
---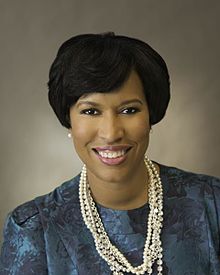 Brave Summit 2017!

The BRAVE Summit celebrates Black women and acknowledges their skills to the fullest sense. BRAVE, standing for Black. Resilient. Artistic. Vigilant. Enough., was pioneered by several Black women of Georgetown for the purpose of combating the pervasive, negative media coverage and replacing it with the truth, our truth. We are on a mission to further expose the magic that lies within us. This year, our theme is 2017: The Recognition of the Black Woman.
Throughout the day, you'll be able to engage with dynamic panels full of #BRAVEWomen like Mayor Muriel Bowser, and participate in breakout sessions such as:
Keeping the Chocolate City Chocolate
Collective Images of Black Women: Overcoming Stereotypes
Black Women in Digital Media
Leadership in Politics
Releasing Resistance & Setting Yourself Free: An Intimate Conversation with Erika Totten & Johnetta Elzie
March 18, 2017, Lohrfink Auditorium
---

Beautiful Believers & GirlTalk Presents


IGNITE


Women's Empowerment Luncheon
Saturday, November 12
11 o'clock A.M
Healy Family Student Center (Herman Room)
November 12, 2016
---
Strengthfinders
Facilitating this workshop were our own:
Amanda Carlton, Associate Director of the Center for Student Engagement, is a Gallup-trained StrengthsEducator and is currently training to be a Gallup Certified Strengths Coach.
Lauren Gagliardi, Assistant Director of the Center for Student Engagement, is a Gallup-trained StrengthsEducator.
Participants were invited to two additional workshops to build on this initial investment in understanding your strengths. Learn more about Strengthsfinder on their website. (new window)
October 20, 2016 Leavey Program Room
---
Preparing the Next Generation of Female Leaders
Offered by the Own It Summit
April 9, 2016. Speakers include Dava Newman, Deputy Administrator of NASA; Amani Alkhat, founding Editor-in-Chief of MuslimGirl.net; Miki Agrawal, Author of "Do Cool Sh*t", CEO and Co-founder of THINX, and Founder of the NYC farm-to-table pizza concept Wild; Norah O'Donnell, Co-anchor of CBS This Morning; and many more! Own It is bridging the gap between female leaders of the 21st century and the Millennials who admire them, by shaking up the women's leadership arena and producing accessible events for college-aged women.
---
Casual Conversation – Society, Body Image and Self-Reflection**
February 3, 2016. This conversation provided an opportunity for open dialogue in a non-judgmental space. We began by reviewing current societal pressures placed on gender, specifically what it means to be "female" in today's society. Self-reflection lead us to explore the ways in which these expectations influence feelings about ourselves, the way we interact with others, and even conform.
---
Georgetown University Women's Leadership Institute Launch and Reception
November 5, 2015. The Georgetown University Women's Leadership Initiative (GUWLI) is now an Institute! The change in name recognizes the stature it has gained and its staying power. Its mission remains to develop gender intelligent leaders by generating scientific insight to empower real­ world impact. Over the next year, the Institute will convene faculty researchers, company executives, policymakers, and students to continue developing our evidence­based, data-driven knowledge to inform programs and policies of corporations and C­suite executives as well as prescriptions for women and men just starting their careers.
Conversation with Ann Sarnoff, CEO of BBC Worldwide North America discussed the state of television and her leadership in the industry, and with Cathy Tinsley, Professor of the McDonough School of Business and Faculty Director of the GUWLI.
---
Sharing Strengths Series Workshop* on "Choosing Presence: The Most Important Executive Decision We Make Without Ever Thinking About It"
» See event pictures (new window)
November 5, 2015. Since the introduction of ubiquitous wireless devices that allow you to be contacted and contact others at any time, we have been faced with endless opportunities for communication. While the number of hours in the day has not changed, the number of messages that we have access to has increased exponentially. This session introduced the importance of communicators choosing presence strategically from four discrete options. We discussed the implications of choice in these different types of presence and its impact on listening.
---
Forte MBA Women's Leadership Conference
June 19-20, 2015. Have you noticed how the energy changes when some women walk into a room? Their knowledge, grounding, and perspective inspire others and make things happen. Their leadership presence is so prevalent that not even the toughest situations knock them off-center. How can you build and ignite your own power base? "Let's Power Up!" enabled MBA women to explore the nature of power, presence, and workplace politics through thought-provoking speakers, customized sessions, and one-of-a-kind networking. More details available here.
---
"Make Way for Women" Book Launch Reception with John Keyser
» See event pictures (new window)
June 11, 2015. Make Way for Women – Men and Women Leading Together Improve Culture and Profits (new window) written by John Keyser (C'59, S'09), with Adrienne Hand, is the first book in which a male senior executive speaks directly to other men in C-suites about the business imperative of sharing leadership with women, and shows how to get it done. Business veteran and leadership expert John Keyser profiles 45 respected male and female business leaders in his book, who verify the financial and cultural gains that women are bringing to U.S. companies. The research, case studies and anecdotes in this book clearly show how capturing the combined strengths of women in executive leadership inspires culture, retains talent, and drives profit. The event included remarks with the authors and a networking reception for alumni who wish to see a change in the workplace! Let's raise awareness around this important subject.
---
* This workshop series will draw upon the breadth and range of interests and experience of the GWA membership. The sessions will reinforce and extend the competence and strength of GWA members, whatever their roles in the workplace.
** The Georgetown Women's Alliance is launching a casual conversation series for our members to engage in interesting discussions about topics of the day. Each session will be centered around a particular theme.